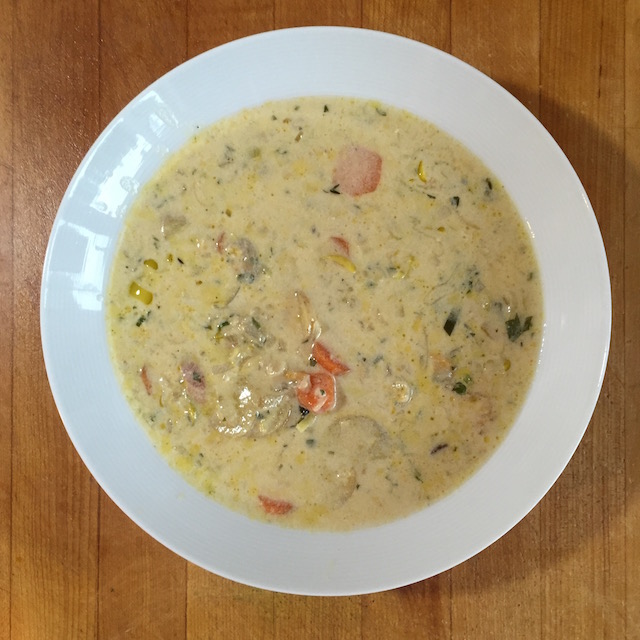 West Coast Clam Chowder
A refined, as opposed to a robust chowder
INGREDIENTS:
4 slices Hertel or Harvest bacon,
3 thinnish leeks, sliced very finely (rough tops removed)
or 4 spring onions, sliced very finely
1 cup chopped yellow onions
3 small thin carrots, peeled and sliced into thin coins
Salt (remember that the bacon and clams already have salt)
Freshly ground black pepper
3 bay leaves
1 tablespoon fresh thyme leaves, stripped from stems
1/4 cup flour
10 fingerling potatoes, peeled and sliced into thin coins
1 14 ounce can clam juice
4 cups chicken stock
2 cups 18% or heavy cream
1 can clams, or equivalent fresh littleneck clams
2 tablespoons finely chopped parsley
YIELD: 8 2 cup servings
COURSE: Soups and Stews
CUISINE: American
DIRECTIONS:

In a heavy stock pot or large saute pan, over medium-high heat, render the bacon until crispy, about 8 minutes. Remove and cut into small dice and then return to the pan.
Stir in the leeks, onions, celery, and carrots. Saute for about 2 minutes or until the vegetables start to wilt. Season the vegetables with salt and pepper. Add the bay leaves and thyme. Stir in the flour and cook for 2 minutes. Add the potatoes. Stir in the clam juice. Bring the liquid up to a boil and reduce to a simmer. Simmer the mixture until the potatoes are fork tender, about 12 minutes. Add the cream and bring up to simmer. Add the clams and simmer for 2 minutes. Stir in the parsley.
Season with salt and pepper if needed. Ladle into serving bowls and serve.