Cowgirl Salad
Posted On: 21 Dec 2019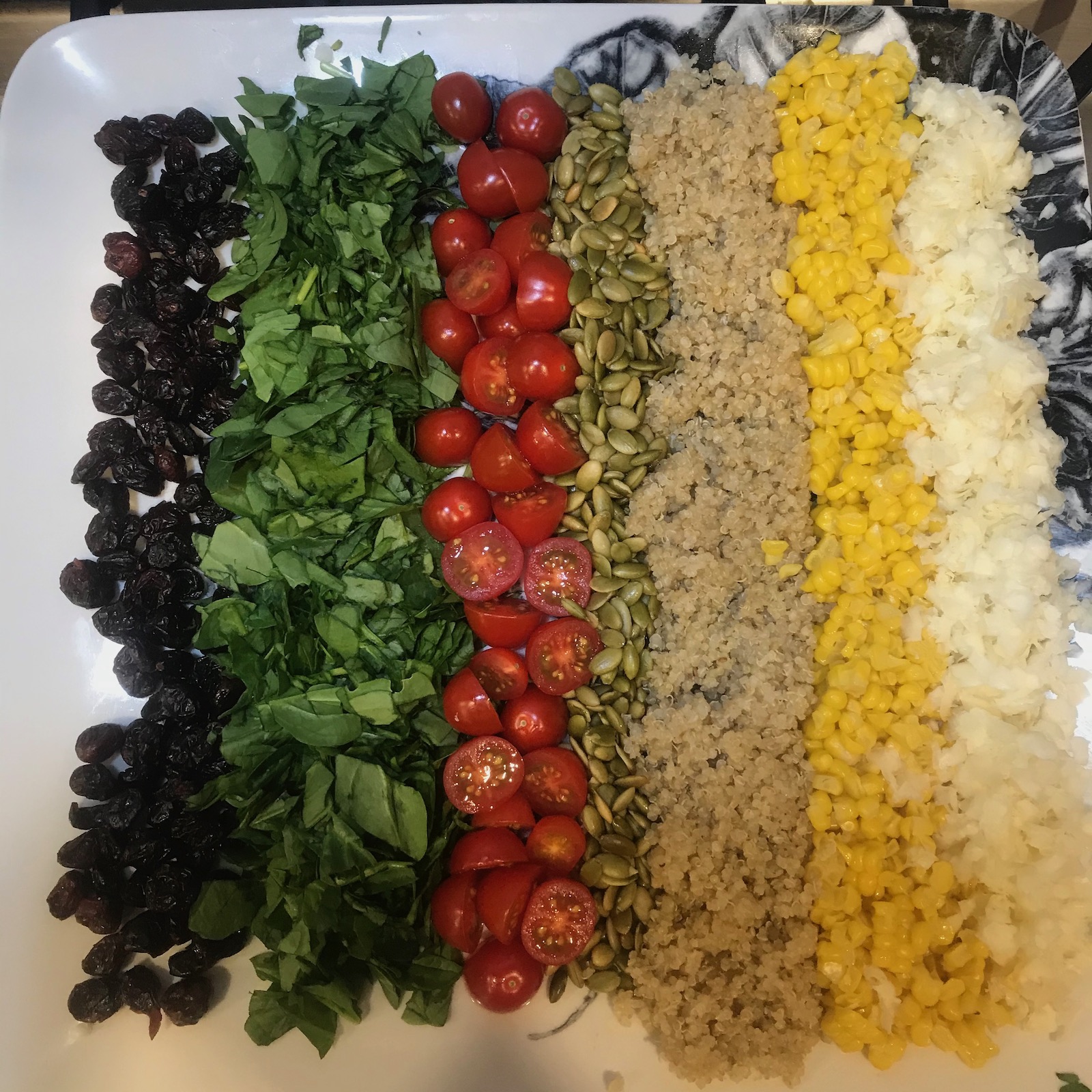 A colorful composed salad, imported to Canada from Arizona by Ali, Shelley Adams daughter.
Adding some salmon or chicken makes this a full meal.
Continue Reading
Recently on LemonZest
The Scandinavians usually have roast pork for Christmas dinner, although pork ribs, Goose and Turkey are also popular. This Pork tenderloin recipe features the fruits incorporated into the sauce instead of the more usual location stuffed inside the pork.

A refreshing summer salad featuring parsley, Bulgar wheat, tomatoes, cucumbers, mint, olives, and tomatoes dressed with a lemon vinaigrette. Make it a meal by adding Feta cheese cubes.

Sometimes a simple combination of basic ingredients gives a supremo result This is an Italian specialty. It is also commonly cooked in French Provençe.

Burrata is one of life's great pleasures. The outside is firm mozzarella, the inside is an oozy combination of stracciatella and cream. The combination is unsurprisingly good.

The easiest solution? Use a hand blender and in 30 seconds you will have a creamy and delicious homemade mayonnaise.
You only need 5 ingredients, plus an immersion blender and a jar. Use a tall and narrow jar, with the opening that's just wide enough to accommodate your immersion blender. You can use the same jar to make and store the mayonnaise. Make sure that the oil and egg are cold from the fridge.

These chicken tenders are coated in a delicious crust, yet have no breading. so they're awesome.

This side dish, together with a chicken breast, fish filet, or pork tenderloin is a great calorie wise dinner

Although this dish is named for Marbella, a stylish resort town just east of Gibraltar on the Spanish Riviera., it was actually first produced in New York City by the Silver Palette Cookbook ladies, Sheila Lukins and Julee Rosso. For the 21st century, the amount of chicken and sugar has been pared way down to give it the spirit of a healthy, Mediterranean style diet. This dish goes well with rice or orzo and a vegetable side such as roasted asparagus or green beans, raisins, and pine nuts.


Along with their brilliant yellow color, mimosa (wattle like) blossoms are memorable for looking like little down powder puffs especially found during spring in Provence along the coast. At some point, a French chef found that a mashed yolk of a hard-cooked egg is similarly bright and fluffy. The result is a variety of egg dishes, all called "mimosa." In classic, traditional French cuisine, Salade Mimosa is a combination of lettuce (plus other ingredients potentially like boiled potatoes, green beans, European cucumber, artichoke hearts) dressed with a sharp vinaigrette and hard-cooked egg sieved or sliced over it.

Starting the eggs in boiling water reduces the degree to which the white sticks to the shell, improving your chances of getting the shell off without damaging the egg later (though with eggs, there are no guarantees).

Using homemade mayo makes the dish stand apart from versions made with store-bought mayo.
Adding the oil in a steady stream while processing the filling makes for a light, fully emulsified deviled egg filling.
Note: Eggs that are a couple of weeks old will peel more easily than very fresh eggs. You can boil the eggs and make the filling one day ahead of time.

This recipe features Galliano, an Italian liqueur flavoured with 30 herbs and spices, including anise and vanilla.