Mushroom and Onion Tart
Easy to make provided your puff pastry is fresh. You also need a bit of time to let the puff pastry thaw.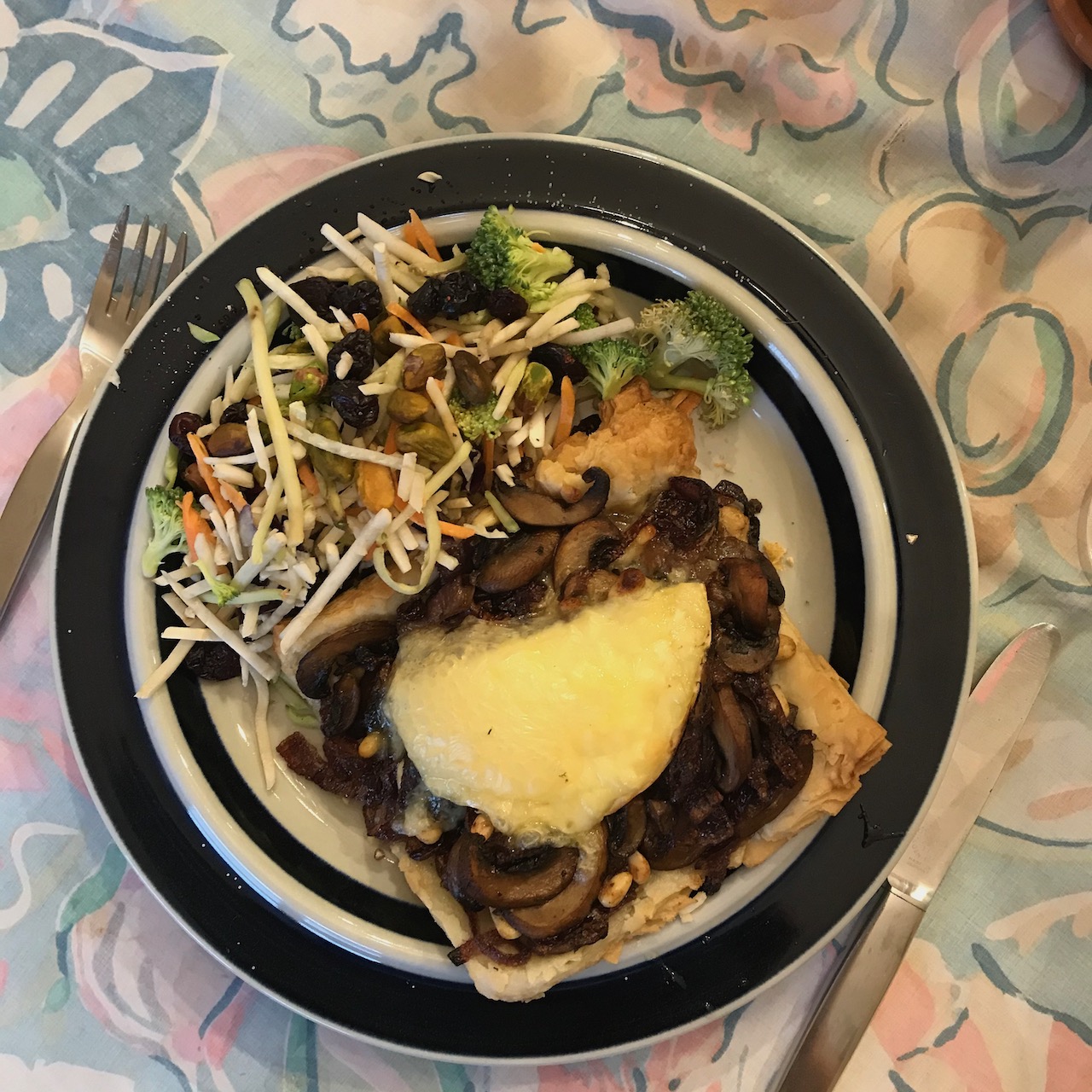 INGREDIENTS:
1 box ready-made puff pastry
flour for dusting
5 tbsp olive oil
700 g red onions, thinly sliced
250 g cremini mushrooms, sliced
4 tbsp pine nuts
1 tbsp chopped fresh oregano
100 g taleggio, Brie or Camenbert cheese, sliced
salt and freshly ground black pepper
Yield:

serves 4 as part of a light dinner

Course:

Vegetarian

Cuisine:

French
Prep Time: 30 min
Cooking Time: 50 min
Total Time: 1 hrs 20 min
DIRECTIONS:
Roll out the pastry on a floured counter and cut out four, 5 inch (13cm) squares. Chill in the fridge for 30 minutes. Place a baking sheet ( or 2) in the oven and heat the oven to 425 degrees F.
Meanwhile, heat 3 tbsp oil in a skillet. Add the onions and cook gently for 30 minutes, until caramelized. Remove from the skillet to a bowl.
Heat the remaining oil in the skillet. Add the mushrooms and cook at high heat until soft and most of the liquid has evaporated. Stir in the onions and then the pine nuts, oregano. Season these ingredients with salt and pepper.
Place the chilled pastry squares on the baking sheets. Prick the squares with a fork and brush with oil. Divide the mushroom mixture between them, leaving a half-inch margin if possible. Place the cheese slices on top. Bake for 15 minutes until the pastry is golden and the cheese is melted.