Pork Loin Spiedini with Pine Nut Soffritto
A splendid Italian Secondo, served with Peperonata contorno. This is Grilled pork chunks, on a bed of arugula, garnished with a pine nut, raisin and olive oil soffritto. The Peperonata recipe can be found here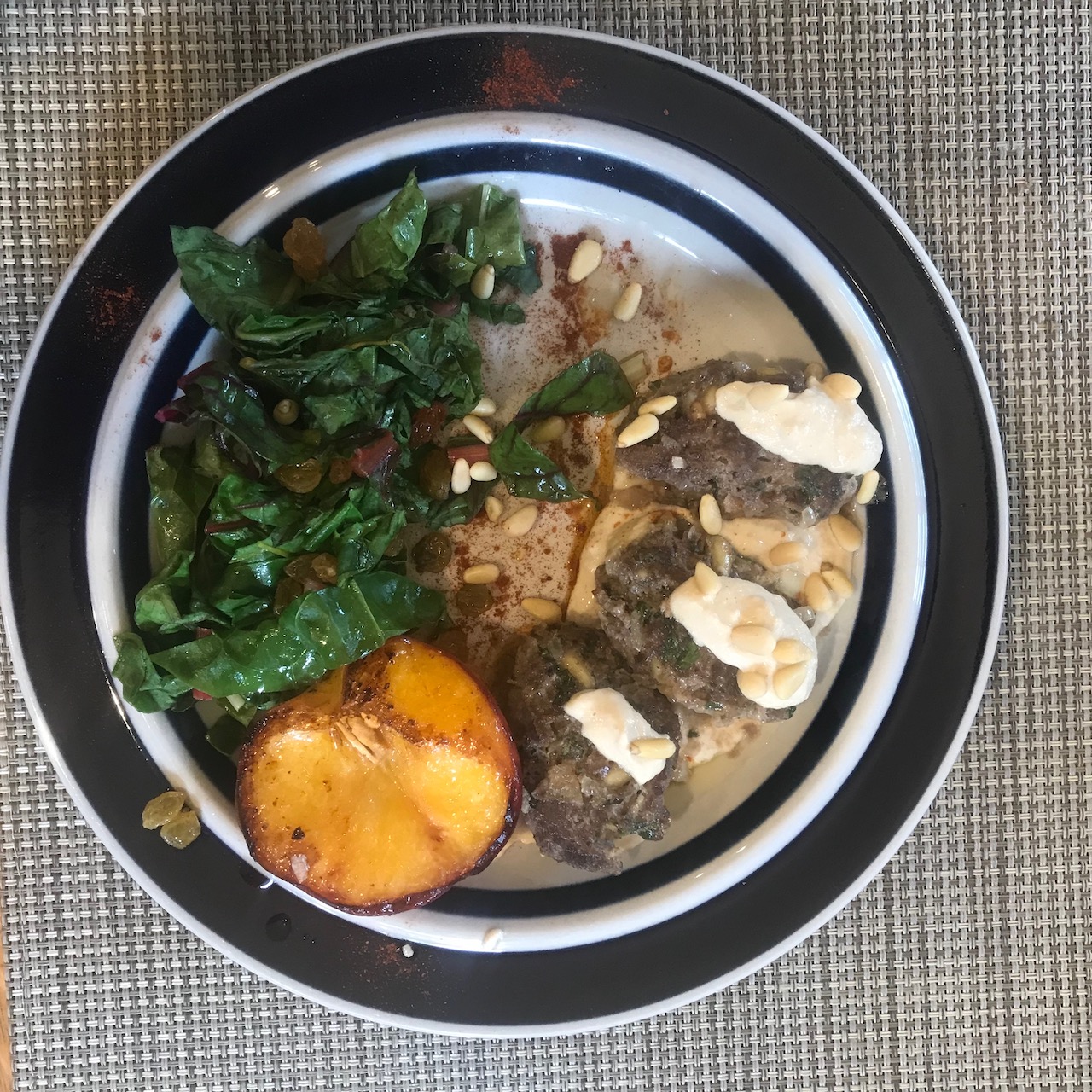 INGREDIENTS:
MEAT
2 pounds boneless pork loin, cut into 1-inch cubes
3 ounces arugula

SOFFRITO

1/2 cup dried currants or raisins
3/4 cup pine nuts
1/2 cup plus 1 tablespoon extra-virgin olive oil
2/3 cup garlic cloves, minced

MARINADE
3/4 cup olive oil
1 tablespoon Worcestershire sauce
1 teaspoon dried thyme
1 teaspoon dried oregano
2 teaspoons black pepper
1/4 teaspoon cayenne pepper
1/4 cup vinegar
1/4 cup lemon juice
2 cloves garlic, minced

YIELD:

6 to 8 servings
COURSE:

Pork
CUISINE:

Italian
DIRECTIONS:
MARINADE
Mix together all the marinade ingredients and place in a seal-able plastic bag. Add the pork cubes and refrigerate for 2 to 8 hours.
SOFFRITTO
Soak the currants in just enough warm water to cover for about 20 minutes. Meanwhile, add the pine nuts and 1/2 cup of the olive oil to a small, heavy pot and place over low heat. Gradually bring to a low simmer, stirring frequently, and cook, stirring, for about 5 minutes, or until the pine nuts have started to brown. Stir in the garlic and continue to cook on low heat for about 5-8 minutes, or until the garlic is a light golden brown. Watch the soffritto carefully; the pine nuts and garlic will burn easily. Drain the currants, add them to the pot, and then remove the pot from the heat. Let the soffritto cool to room temperature. It will keep, tightly covered, in the refrigerator for 2 weeks.
About 30 minutes before cooking, remove the pork from the refrigerator. If using wooden skewers, soak them in water to cover to prevent them from scorching. Heat your gas grill or prepare a hot fire in a charcoal grill, stacking the coals to one side so you have two areas of heat, one with direct heat and one with indirect heat.
COOKING
Thread about 6 pieces of pork onto each skewer.
Place the skewers over the coals (or on the grill) and grill for about 1 minute on each side, or until well seared. Move the skewers to the cooler side of the grill and continue to cook over indirect heat for about 8 minutes, until cooked medium-well but still juicy.
Arrange a bed of arugula on each plate. Place the pork skewers on top. Drizzle some of the soffritto over the top of the pork and the arugula. Place your Peperonata contorno on the second half of each plate. Pass the remaining sauce at the table. Serve immediately.