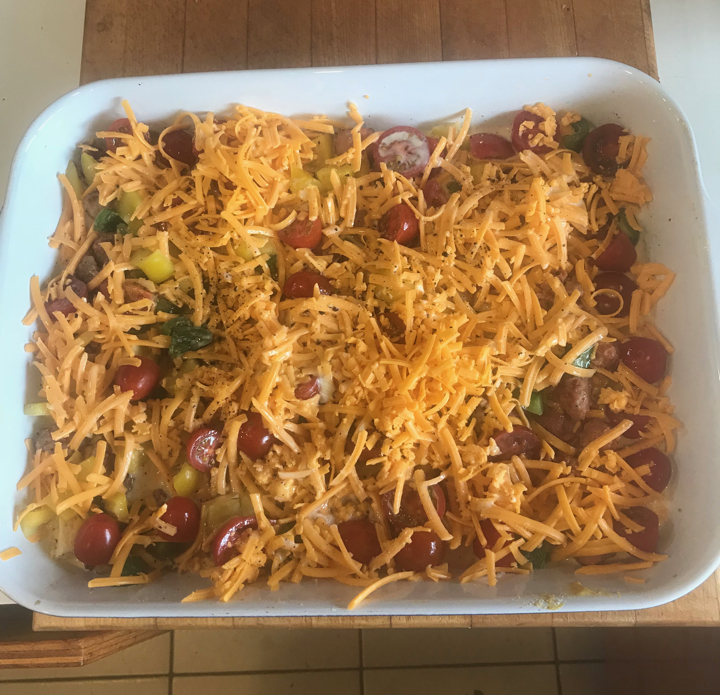 Breakfast Strata
Great for a group - can be assembled the night before.
INGREDIENTS:
6 slices bread, preferably a dense Italian style loaf, sliced 3/4 of an inch thick
1 pound pork sausage (medium or hot)
1 tablespoon dijon mustard
2 cups shredded cheddar cheese
20 - 24 cherry or grape tomatoes
1 yellow and 1 green bell pepper, diced
6 eggs, slightly beaten
2 cups whole milk
1 cup half and half cream
1/2 teaspoon salt
1/4 teaspoon pepper
1/4 teaspoon of nutmeg
2 teaspoons Worchestershire sauce
1/2 teaspoon Tobasco or other hot sauce
YIELD: 6 to 8 persons
COURSE: Breakfast and Brunch
CUISINE: Canadian
DIRECTIONS:

Trim crust from bread and fit it into the bottom of a 10 by 16 baking pan. Brown sausage and drain off any excess fat. Stir mustard into sausage. Spoon sausage evenly over bread. Scatter tomatoes and peppers over the bread and sausage. Sprinkle the grated cheese on top. Combine remaining ingredients (eggs, milk, half and half, salt, pepper, nutmeg, hot sauce and Worcestershire sauce) and then pour over cheese and sausage.
Bake at 350°F for 30 to 35 minutes.
This can be made the day before and kept in the refrigerator. Allow extra time for baking if it has been refrigerated.