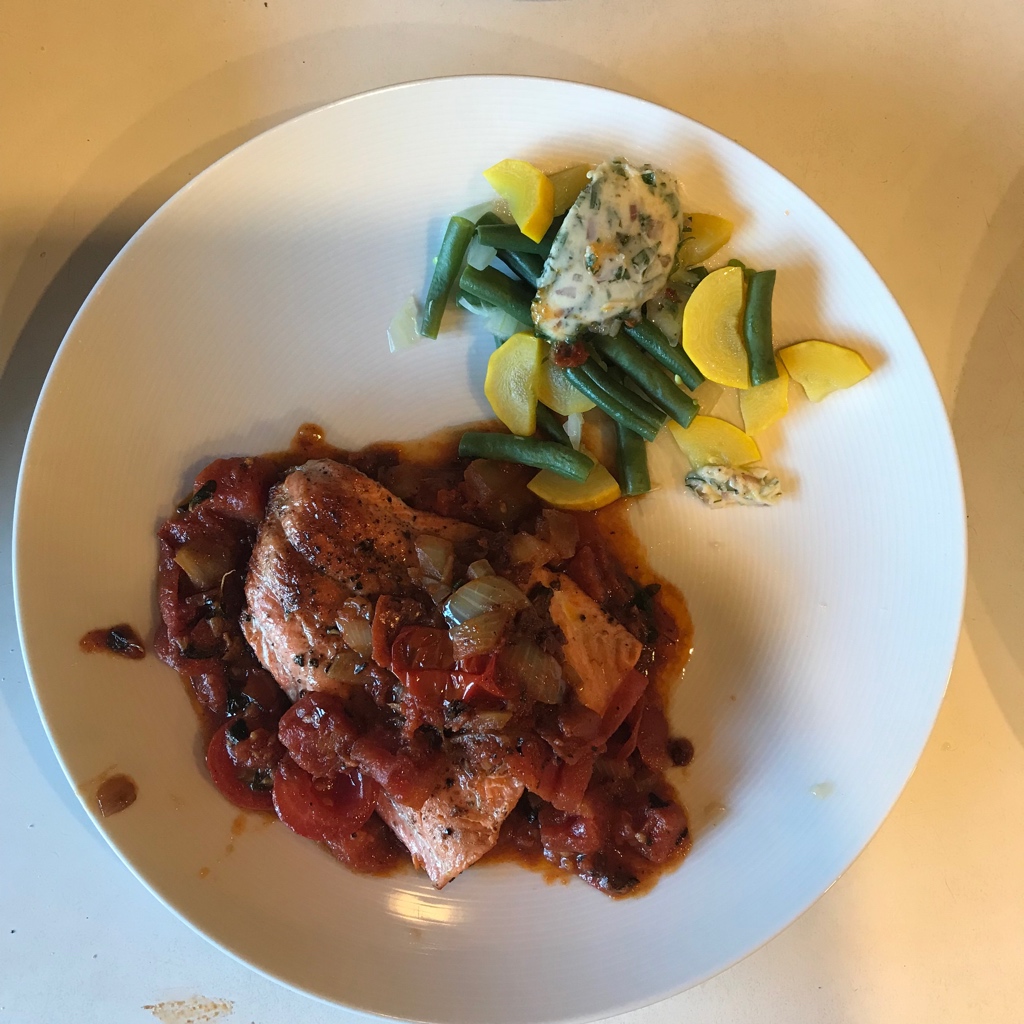 Pan Roasted Salmon with Tomato Confit
This meal features salmon cooked lid on, at a low heat and nestled in a tomato confit. The confit is made from three types of tomatoes, Campari, Fire roasted canned tomatoes and sun-dried tomatoes. The recipe also works well with any white fish, or chicken.
INGREDIENTS:
4 5-oz (150 g.) salmon fillets
1/2 onion, chopped
salt and pepper
2 tablespoons butter and 1 tablespoon olive oil
3-4 cloves garlic, finely chopped
1 14 oz. can of fire roasted tomatoes
8 campari tomatoes, quartered
½ cup sun-dried tomatoes
2-3 fresh oregano springs or 1 tablespoon dried oregano
1 tsp salt
1/2 teaspoon black pepper

YIELD: 4 servings
COURSE: Seafood
CUISINE: Italian
DIRECTIONS:

Match a large skillet with a tight-fitting lid. Heat the skillet over medium-high heat and add the oil and butter. Season the salmon filets with salt and pepper, then sear until lightly browned on each side, flipping carefully, 3 minutes per side. Place the seared salmon on a clean plate and cover lightly.
Add the onion and garlic to the pan and lightly sauté for 2 to 3 minutes. Add the fire roasted tomatoes. Add the Campari and sun-dried tomatoes, oregano, salt & pepper. Bring the works to a simmer and cook gently awakening and blending the flavours, 2 minutes. Reduce the heat to a low simmer, carefully nestle the fillets into the confit and cover tightly creating a mini oven. Cook gently until the salmon cooks through, about 4 to 5 minutes. Plate the salmon, top with the confit and garnish with more freshly chopped oregano. Serve and share.